Exhibition | March 1 to October 3, 2021
Media Art in Dialogue with Nature and Society
The exhibition looks at light as a metaphor for knowledge. With 21 installations by a total of 15 artists, the spectrum includes room-filling installations, objects and light boxes as well as neon and video works. The exhibition surprises with visual experiences and sensual seduction.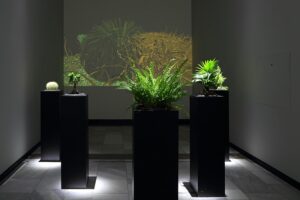 The Director of the Staatliche Schlösser, Gärten und Kunstsammlungen Mecklenburg-Vorpommern, Dr Pirko Kristin Zinnow:
"Light is one of the most fascinating contents of the visual arts. Creativity combined with the technical possibilities of the new media transports the viewer into a world of new visual experiences. 15 artists from Germany and abroad as well as from Mecklenburg-Vorpommern present their perspectives on nature and society. The existential significance of light as the basis of all life can be experienced in a wonderful way."
Many works of art are interactive. The work by Klaus Obermaier, for example, transfers the movements of the viewers in front of the canvas in a playful and enjoyable way. The interactive work by Christa Sommerer and Laurent Mignonneau is located at the interface of art, science and technology and raises awareness to our relationship with nature. Visitors can gently touch the living plants and thus change the image of a garden, a jungle, displayed on the projection surface connected to them. The gentle attention given to the plants changes the virtually generated image. Jeongmoon Choi's walk-in installation transports us into an unfamiliar dream world with lines seemingly floating in space, glowing blue in the darkness of black light. Sonja Rolfs also shows an expansive installation in the exhibition that questions our perception with irritating and self-reflective light.
In subtle poetic language, Jenny Holzer's constantly running LED ties negotiate a mother's anxious thoughts about what kind of world she is releasing her child into, but at the same time they refer to the real dangers and threats to children in this world. Brigitte Kowanz's light objects address world political events, such as the fall of the Berlin Wall, the Arab Spring or the triumphant invasion of e-mail. François Morellet and Jan Henderikse are represented with neon works that formally define light in space.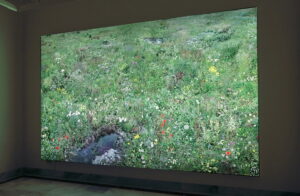 With more painterly, art-historical positions, some works particularly draw a link to the Schwerin Museum's collection of Old Masters. The department of 17th century Dutch painting is part of the exhibition in order to point out the importance and function of light here as well. Just as the still lifes of the Dutch assemble berries and fruits of different seasons, Hiroyuki Masuyama unites flowers and plants on a large meadow flooded with sunlight from different spring and summer months. His result, however, is not oil on canvas, but a computerised view in a light box, depicting a meticulously composed flower meadow in a superb richness of detail. Similarly, Andreas Sachsenmaier transfers famous works of art history such as Leonardo da Vinci's 'Last Supper' or Hieronymus Bosch's 'Garden of Delights' into the present.
Participating artists:
Jan Bauer
Jeongmoon Choi
Jan Henderikse
Jenny Holzer
Brigitte Kowanz
Hiroyuki Masuyama
François Morellet
Klaus Obermaier
Sonja Rolfs
Andreas Sachsenmeier
Christa Sommerer, Laurent Mignonneau
Martin Walde
Klaus Walter
MarcW1353L (Wiesel)
The exhibition is accompanied by a bilingual catalogue (German/English), 143 pages, exclusively colour illustrations, ISBN 978-3-95498-587-6, price € 28.00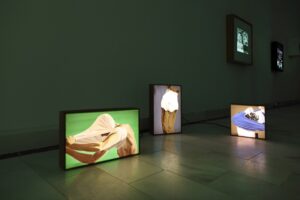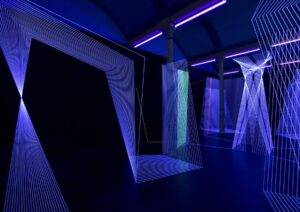 captions:
| Martin Walde | Hallucigenia OMEN | 2013 | Foto G. Broecker | © VG Bild-Kunst | Bonn 2021 |
| Christa Sommerer | Laurent Mignonneau | Interactive Plant Growing | 1992 | Foto G. Broecker | © Christa Sommerer, Laurent Mignonneau |
| Hiroyuki Masuyama | Flowers No 7 | 2009 | Foto G. Broecker | © Staatliche Schlösser, Gärten und Kunstsammlungen Mecklenburg-Vorpommern |
| Jeongmoon Choi | Drawing in Space – Dialogue | 2020 | © Jeongmoon Choi |