Exhibition | 20.10.2020 to 3.10.2021
light – myth – material
rosalie (Gudrun Müller, 1953-2017) celebrated her greatest successes with her set and costume design productions for the 'Ring des Nibelungen' on the Green Hill. After her productions for the Schwetzingen Festival, the Stuttgart Ballet, the Zurich Opera House, the Teatro alla Scala Milano and the Hamburg State Opera, rosalie came to Bayreuth in 1994. Now, a quarter of a century after the premiere, an exhibition stages rosalie's legendary 'Ring des Nibelungen' in a spectacular way. rosalie dealt intensively with the myth of Wagner. But what she created for the stage, and what the exhibition now brings back to life so impressively, are colourful, strongly shaped costumes and stage worlds that have been thought through to the last detail. Shown are, among other things, 13 stage models from the 'Ring des Nibelungen', props and original costumes that illustrate and vividly visualise the planning and development of the productions.
rosalie has written festival history with worlds of light and images
Kinetic and interactive light sculptures had been rosalie's central means of expression from 2006 onwards. A colourful flower garden and whimsical sculptures bear witness to her powerful creative energy. A highlight is the model for rosalie's last work 'Mahler 8', which the artist created for the recently opened Elbphilharmonie in Hamburg and which translates Gustav Mahler's monumental 'Symphony of a Thousand' into a delicate language of light. For the exhibition, the museum spaces are transformed into immersive worlds of light, image and sound.
rosalie theatricalised reality
rosalie was not an iconoclastic shatterer of forms. Rather, she created abstract associative sign systems that gave viewers every freedom to use their own imagination. A freedom that rosalie defined as "one millimetre above the material". Her productions occupy a special position. They offer an open, spatio-temporal kaleidoscope of disparate art formations in which products of everyday life were recoded in order to translate Wagner's myth into a contemporary language. Almost always, the music was also part of a synesthetic experience that rosalie sought and tried to instigate when she asked with Tristan: "How, do I hear the light?"
Paying homage
The artist died in the middle of the preparations of her exhibition for the Richard Wagner Museum in cooperation with atelier rosalie and its director Thomas Jürgens. rosalie's unexpected death put an abrupt end to the planning process at the time.  Now, with this impressive exhibition, the museum in Bayreuth pays tribute to the artist's important oeuvre.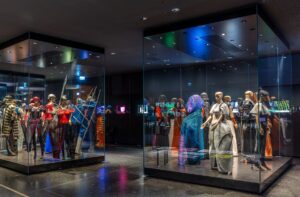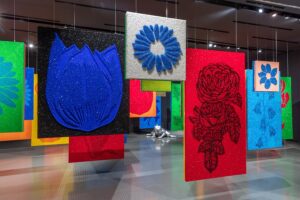 Photos:
rosalie: KLINGER | Walk-in Landscapes of Melancholy – kinetic-interactive light-sound sculpture, at the Richard Wagner Museum 2020 – Photo: Wolf-Dieter Gericke
rosalie: Costumes for the "Ring of the Nibelung" (Musical Director: James Levine, Director: Alfred Kirchner), Bayreuth Festival 1994 to 1998, in the Richard Wagner Museum 2020 – Photo: Wolf-Dieter Gericke
rosalie: The "Ride of the Valkyries" in "Die Walküre", stage design and costumes: rosalie, Bayreuth Festival 1994 to 1998 – Photo: Bayreuth Festival
rosalie: Crystal Park – of hanging gardens, room installation, in the Richard Wagner Museum 2020 – Photo: Wolf-Dieter Gericke