Spatial Disorientation | 2019 
For the exhibition "Deflection" at the Brno House of Arts, Pavel Korbička (*1972 in Brno/CZ) designed monumental, site-specific light installations that form a counterpoint to the dominant architectural symmetry of this exceptional space. The exhibition consisted of walk-in installations made out of polycarbonate. These sculptures, interlinked by their meaning, were illuminated by coloured neon light. The colours were changing depending on the spatial arrangement of the gallery in order to amplify the contrast between the individual rooms, while the contrast between warm and cool colours was simultaneously used to reinforce the difference in spatial perception.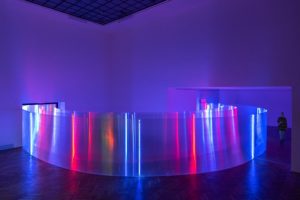 Corridor is a walk-in and site-specific installation in the shape of a double light corridor which was installed in four halls of the Brno House of the Arts. Inside the installation, viewers could activate light kinetic phenomena which moved and changed dynamically with the movements of the viewers and caused states of physical imbalance.
The exhibition was to be understood as a curated process that led to an inner confrontation with the psychophysical aspects of one's own body that are innate to each of us. Korbička, who holds a scholarship from the Pollock Krasner Foundation states: "In my work, I deal with speculations about space in which light represents the main medium of expression. I am interested in revealing hidden orders and meanings of particular spaces or in assigning completely new meanings to these spaces by means of large-format light-inducing panes which create synergies with these spaces and change the established perspectives of its perception. Upon entering these spaces, we find ourselves in pulsating light labyrinths which might lead us towards the brink of physical imbalance and consequently towards a deeper awareness of ourselves."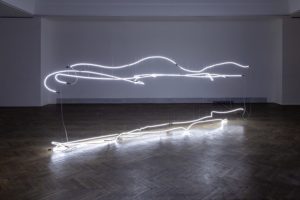 Dance Calligraphy F1 is a spatial linear record of a dance transformed into a five meter long line. The five points (head, hands, feet), set into motion by the dancer's body, are the farthest points of the body centre of gravity and with them it is possible to delineate the boundaries of physical space. They were recorded as a linear image with a 3D scanner. This record of a dance was transformed into final shapes of glass neon tubes in life-size. The process results in the overlap of immaterial light drawing and physicalness, a dance and its notation.
______________________________________________________________________
credits
in the slider
Tunnel Vision is a site-specific installation which refers to the psychological term 'tunnel vision'. The installation was entered via a metal bridge which was eccentric to the central axis of the tunnel. This eccentricity made the spectator feel a dynamically changing light phenomenon with every movement on the bridge.
|| Pavel Korbička| Tunnel Vision | 2019 | Polycarbonates, neons, iron bridge | 220 × 592 × 630 cm | Photo: Jan Vermouzek | Exhibition: DEFLECTION, The Brno House of Arts |
in the text
|| Pavel Korbička | Corridor | 2019 | Polycarbonates, neons | 210 × 1770 × 1470 cm | Photo: Jan Vermouzek | Exhibition: DEFLECTION, The Brno House of Arts |
||Pavel Korbička | Dance Calligraphy No. F1 – 00:03:00 min | 2019 | installation, neons | 165 × 545 × 127 cm | Photo: Jan Vermouzek | Exhibition: DEFLECTION, The Brno House of Arts |
| Link to website |