Liquid light for Jiaxing Train Station
Jiaxing Railway Station, officially named "The Train Station in the Forest", is located in the center of Jiaxing, a city south of Shanghai on the railroad line to Kunming.
MAD Architects installed three platforms with six tracks on a 35.4-acre site with a frequency of approximately 2,300 travellers per hour in the basement.
Dongning Wang, the founder and chief designer of Ning Field Lighting Design Corp., Ltd. in Beijing was commissioned with the lighting design for the interior and also for the exterior spaces. His office was involved in the project at an early stage of the architectural planning.
Dongning Wang: 'Thanks to the synergy with the architects, the light in the building became a true building material.'
The challenge in lighting design was to create a calm and spacious place to decelerate and relax the travellers. Stations are places of transition between the past and the future and this is what Dongning Wang's lighting concept aims to communicate.
Visitors are welcomed with elegant light day and night
The centerpiece of the architecture is the reconstructed station building from 1907, which was completely destroyed in the Second Japanese-Chinese War in 1937.
Dongning Wang and his team planned two different lighting concepts for the reconstructed building made of stone with bricks and for the modern one made of glass with concrete, which relate to each other in terms of architecture. For the reconstructed building, the team decided on warm light colors and a classic lighting design, while the contemporary building features neutral, white, fresh light.
At the heart is the waiting hall with custom linear luminaires recessed into the walls and skylight. The linear lighting and the natural light flood and flow through the hall. The natural light offers the reference to the sky, while at night the glow from inside emphasizes the visual axis of the place.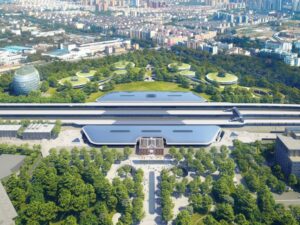 Photos / credits :
Company > Ning Field Lighting Design Corp., Ltd. | Lead Designers > Dongning Wang | Other Designer's names > Yansong Ma, Qun Dang,Yosuke Hayano,Huiying Liu,Wei Guo,Jincang Yu,Zhen Wang,Lihua Zhou,Zhanguo Liu | Architecture Company > MAD Architects | Interior Design Company > Shanghai Xian Dai Architectural Decoration & Landscape Design Research Institute Co | Client > Jiaxing Modernservice Industry Development & Investment (Group) Co | Photo Credits > CreatAR Images, Aogvisio, ArchExist | Other Credits > Executive architects: Tongji Architectural Design (Group) Co, China Railway Siyuan Survey and Design | Completion Date > 2021 | Project Location > Jiaxing, China |