Lighting Design | Chayot Kiranantawat / Thailand
In the Light of Shadows
Chayot Kiranantawat started his career as an architect in Bangkok in 2010 and joined a lighting design firm in 2014.  In 2017 he moved to the United Arab Emirates to widen his experience and expertise in Dubai. Now Kiranantawat works in Singapore as a lighting designer in an international team that focuses on restoring the relationship between man and nature. He wants, that lighting design is becoming a medium for designing events or, more particularly, conditions that can promote a more active engagement of man with his environment.
The lighting design for the Airstream Campsite in Pranburi (Thailand) embraces the landscape into the concept in such a way that travellers who love outdoor activities can perceive nature particularly intensively.
You find the complete article in the issue : November 2020/print.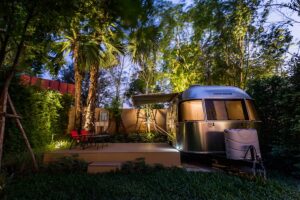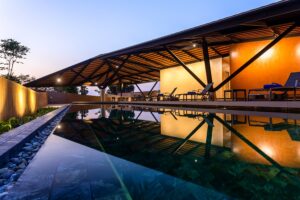 ______________________________________________________
Photos :
in the slider:  Chayot Kiranantawat | Airstream Campsite Pranburi | Location: Talad Yai, Prachuap Khiri Khan, Thailand | Architect: Studiomixo and Theerasarn Satirot | Area: 7.350 sqm | 2019 | © Chayot Kiranantawat | Photos courtesy of Chaicatawan |
Plan in the text: Chayot Kiranantawat | Plan: Airstream Campsite Pranburi | Location: Talad Yai, Prachuap Khiri Khan, Thailand | Architect: Studiomixo and Theerasarn Satirot | Area: 7.350 sqm | 2019 | © Chayot Kiranantawat |
Photos in the text: Chayot Kiranantawat | Airstream Campsite Pranburi | Location: Talad Yai, Prachuap Khiri Khan, Thailand | Architect: Studiomixo and Theerasarn Satirot | Area: 7.350 sqm | 2019 | © Chayot Kiranantawat | Photos courtesy of Chaicatawan |