Exhibition | November 2021 – Februar 2022
"Glass is materialised light"
Palová+ Pala are among the most important protagonists of the European studio glass movement. The couple met in the 1970s at the Academy of Fine Arts and Design in Bratislava, in Václav Cigler's class in the architectural glass department. After graduating, Pala and Palová set up a workshop in Bratislava and later began experimenting with mould-fusing techniques, setting up their own kiln for this purpose in 1989.
In 1995 Palová became president of the 'Association of Applied Arts and Designers' and from 1996 to 2003 she was professor in the glass department at the University of Sunderland in the UK.
Zora Palová
"Glass is a very spiritual material"
Zora Palová (*1947, Bratislava/CS) works in a painterly style that expresses movement. Initially, the artist forms her sculptures spontaneously and intuitively in clay. The finished model is transformed into a mould into which the glass is melted. The flowing gestures and deep, jagged grooves, split, rough surfaces refer to powerful and natural energies, such as the wind or flowing water. Some of her sculptures are reminiscent of the mostly invisible blueprints of nature. Massive blocks often find their counterparts in gossamer petal-like edges, fragile projections and delicate colour gradations that vary according to the thickness of the material. In this way, the fluid movement of the hot material becomes part of the final work and denies any sense of a solid, cold mass. "Glass is a very spiritual material," says the artist. Using processing techniques on the cold object, such as grinding, sandblasting, polishing or matting, Palová creates contrasts or introduces light into the object and allows insights into the glass. If surfaces are sandblasted, they absorb the light instead of reflecting it. Then the glass absorbs light and begins to glow softly.
Zora Palová explained in an interview: "Glass can absorb or reflect light. It is translucent or transparent. Glass is not just a material, it is a matter with its own life; it is a space shaped by light. Glass is materialised light."

Štěpán Pala
The search for universal order
Štěpán Pala (*1944, Zlin/CS) plans his sculptures on paper or as models. Drawing plays an important role in his work. The artist uses drawing to construct, organise and conceive form, as well as to precisely calculate dimensions and mutual relationships. Štepán's artistic thinking has a universal timeless dimension: it is abstract and reveals the visual character and significance of mathematics and geometry. Space is the central theme of his work, and within this parameter he exploits the concepts, such as infinity, multiplication, division, curvature, and changes in inner structures – movement and transformation. When Pala began visualising music, he developed rhythmic structures of line systems in which a line relates to the previous one, similar to propagating sound waves.
The beauty of leftover nothingness
His objects represent a specific geometric construction in which everything has its place, without superfluous or random details. In this process of design, he explores the effect of light and colour in glass. In search of a balance, it explores the tension between form and emptiness. Pala does not transform everything into matter, but there remains a moment of suggestion that points beyond the work itself.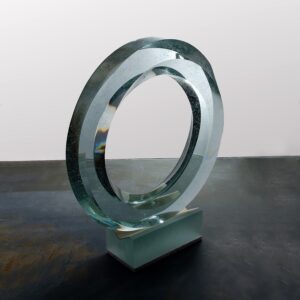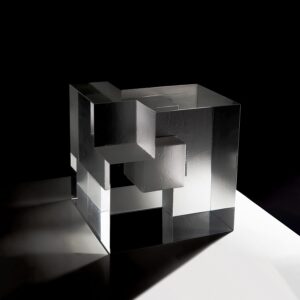 Glasgalerie Stölting
The gallery was founded in 1988 and has been run by the second generation in Hamburg's HafenCity since 2013. The focus of the gallery is on sculptures made of glass by first-generation Czech artists, but also by young talents who belong to the international elite.
Visits are possible at any time by appointment.
Please contact: Phone : 040 / 325 308 33 //  Mail: info@glassart.de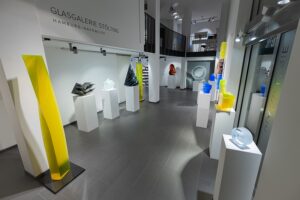 _____________________________________________________
Photos :
in the slider:
Zora Palová | Interrupted Waves | Fine Art Glass Sculpture | Size/Year: 37 x 34 x 23 cm / 2021 | Technique: Kiln casted glass, cut and polished |
in the text:
Zora Palová | Air – Earth – Water | Installation – horizontal | Size/Year: 41 x 18 x 195 cm / 2021 | Technique: Klin casted, cut, yellow, topaz, blue glass' triptych |
Zora Palová | Flower Day | Fine Art Glass Sculpture | Size/Year: 38 x 15 x 50 cm / 2020 | Technique: Kiln casted glass, cut and polished |
Štěpán Pala | Infinity 5 | Fine Art Glass Sculpture | Size/Year: 125 x 18 x 110 cm / 2012 | Technique: Kiln casted, cut and polished crystal glass – glass base |
Štěpán Pala | Cube | Fine Art Glass Sculpture | Size/Year: 20 x 20 x 20 cm / 2020 | Technique: Kiln casted, cut optical glass |
Štěpán Pala | Yellow Square the Circle | Fine Art Glass Sculpture | Size/Year: 20 x 18 x 20 cm / 2020 | Technique: Cast, cut and polished, glued optical glass |