Illuminationen | von November 2016 – 7. Mai 2017
Winter lights in the time around Christmas and New Year are more than popular in China and Japan
The illuminations often begin in November and last until Valentine's Day or even last into spring.
One of the most spectacular light shows in Japan is the Kobe Luminarie. It took place for the first time in 1995, with the support of Italy under the sign of the mourning for the victims of the in the earthquake catastrophe in the Japanese city. Since then the lighting has been arranged by the Italian artist Valerio Festi, together with the Japanese Hirokazu Imaoka.
The illuminations in Kobe, Tokyo, Sendai and Osaka are characterized by the fact that they bath the cities with their streets, buildings and places into a luscious colourful glow by a sea of ​​LED lights.
The magnificent lighting installations in Kanagawa, Tochigi, Nagoya and Nagasaki include flora and fauna in their illuminations. Millions of LED lights transform entire parks and gardens with hills, waterfalls and basins into spaces of colorful lights, often in conjunction with sounds and music.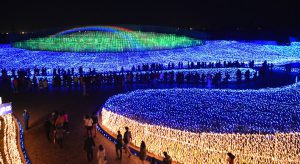 In Harbin, in northern China, artists work with ice and create a great fantastic "world of ice and snow". Frosty blue or bright magenta, violet and pink contrast to brilliant green. During the day, the icy buildings and sculptures are displayed in natural light, while at night they are illuminated by coloured light. The light sources are frozen directly into the ice and the natural transparency of the water makes the ice shine from the inside in many colorful colors at night.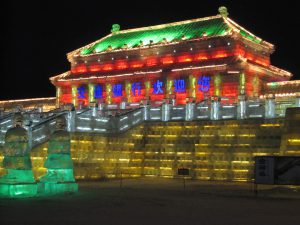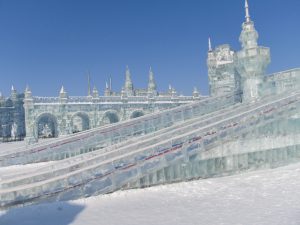 _________________________________________________________________________________
captions:
in the slider:
Winter Illumination at Nabana-no-Sato, 13 Feb, 2012 commons.wikimedia.org
in the text from top to bottom :
Kobe Luminarie | Dezember 2015 |https://upload.wikimedia.org/wikipedia/commons/d/df/Ruminarie2015.JPG
11th Harbin International Ice and Snow Sculpture Festival. The building says Jiao Tong bank welcomes you. Von 李吉秋 (李吉秋) via Wikimedia Commons
Harbin Ice and Snow Festival 2013, Tracy Hunter