Exhibition | May 16 – September 05, 2021
Switch II is a project of the Center for International Light Art Unna and the Hochschule der Bildende Künste Saar (HBKsaar) Saarbrücken.
In this follow-up project, students and teachers of the HBKsaar experiment with physical light in drawing, painting, sculpture, installation and performance. The common denominator of the exhibition is an understanding of the image that is inherent in temporality, changeability and transience. Spatial works in the form of spatial light installations are implemented with self-built LED lighting elements.
Artists:  
Vanessa Busse (DE) | Raika Dittmann (DE)| Donja Fard (IR)| Karen Fritz (DE) | Malika Hagemann (DE/DZ) | Katharina Hamp (DE) | Behnaz Hasani (IR) | Daniel Hausig (CH)| Seokjin Hong (KR)| Hannes Käfer (DE) | Philipp Kaminski (DE)| Jumi Kim (KR) | Isabelle Kirsch (DE)| Siwei Li (CN) | Martine Marx (LU) | Nane Neu (DE) | Sarah Niecke (DE) | Larissa Peters (DE)| François Schwamborn (FR) | Bahzad Sulaiman (SY) | Ingo Wendt (DE)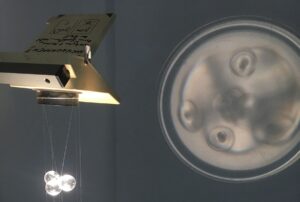 _____________________________________________________
Photos:
| Bahzad Sulaiman | 2020 | HBKsaar _ Switch II | © Centre for International Light Art Unna/DE |
| Seokjin Hong | 2020 | HBKsaar _ Switch II | © Centre for International Light Art Unna/DE |