Exhibition | March 13, 2016 – January 1, 2018
The Light, it flashes and shines, the sparks scatter or it bundles up …
… the colours in this light whirl constantly change – it's a large flash. It mysteriously casts a spell over one. The light blazes like a fireball, flashing it meanders through the warren and flows from inward outwards and streams back in a magical way. Everybody looks on enraptured and marvels. The light sculpture throws the colour onto the white walls and plunges the room into a shimmering, gushing ocean of colour and light. No mysticism, no esotericism, merely a gleam and a shimmer that is only alive for a brief moment. The infinite colour- and light play is constantly morphing and is rather an adventure for the senses than a museum experience. Light has ventured into art and changed it, altered it into an intangible cosmos that might, within moments, burn out like a shooting star.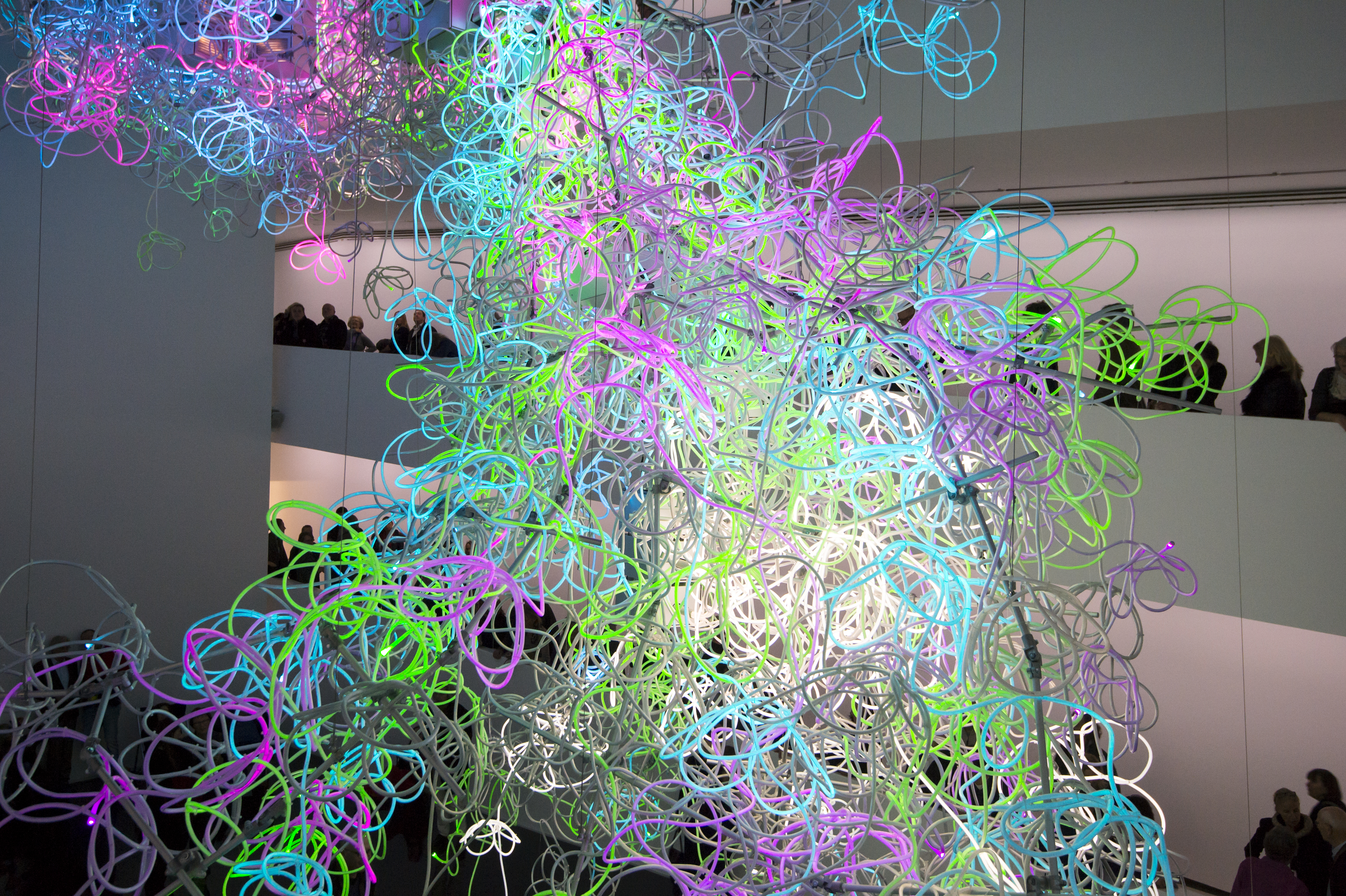 And besides that these enchanting, alien, as yet unheard sounds and tones! There is an enigmatic whooshing, a clicking, creaking, trembling and swirling or an air like sound in the room. The rhythmic light sequence of the vortex enters into an exciting dialogue with Matthias Ockert's (*1970 Bodensee)  sound installation. The musician composed 'Cool Tunes' specifically for this light sculpture. The sounds are really based on light data from the universe. Trans neptune objects send out cold light and these wavelength ranges are recorded by the Max-Planck-Institute for Solar System Resesarch. Ockert has translated this data into sound, using a programming code and arranged it for rosalie's artwork setting everything into an illusive and surreal tableau.
The SCHAUWERK Sindelfingen exhibits the floating three dimensional light sculpture, with an overall height of fifteen metres, over all four floors. Rosalie (*1953 Stuttgart) has designed a walk-in light sculpture for the museum in the former high-bay warehouse. The set designer and light artist has, in a wild manner, entwined fluorescent fibres into highly complex tangle. The sober architecture of the warehouse forms a high contrast to the dynamic and organic appearance of the iridescent light vortex. Together with the tones from space the walk-in kinetic light sculpture becomes, from different perspectives, a sensory and emotional experience.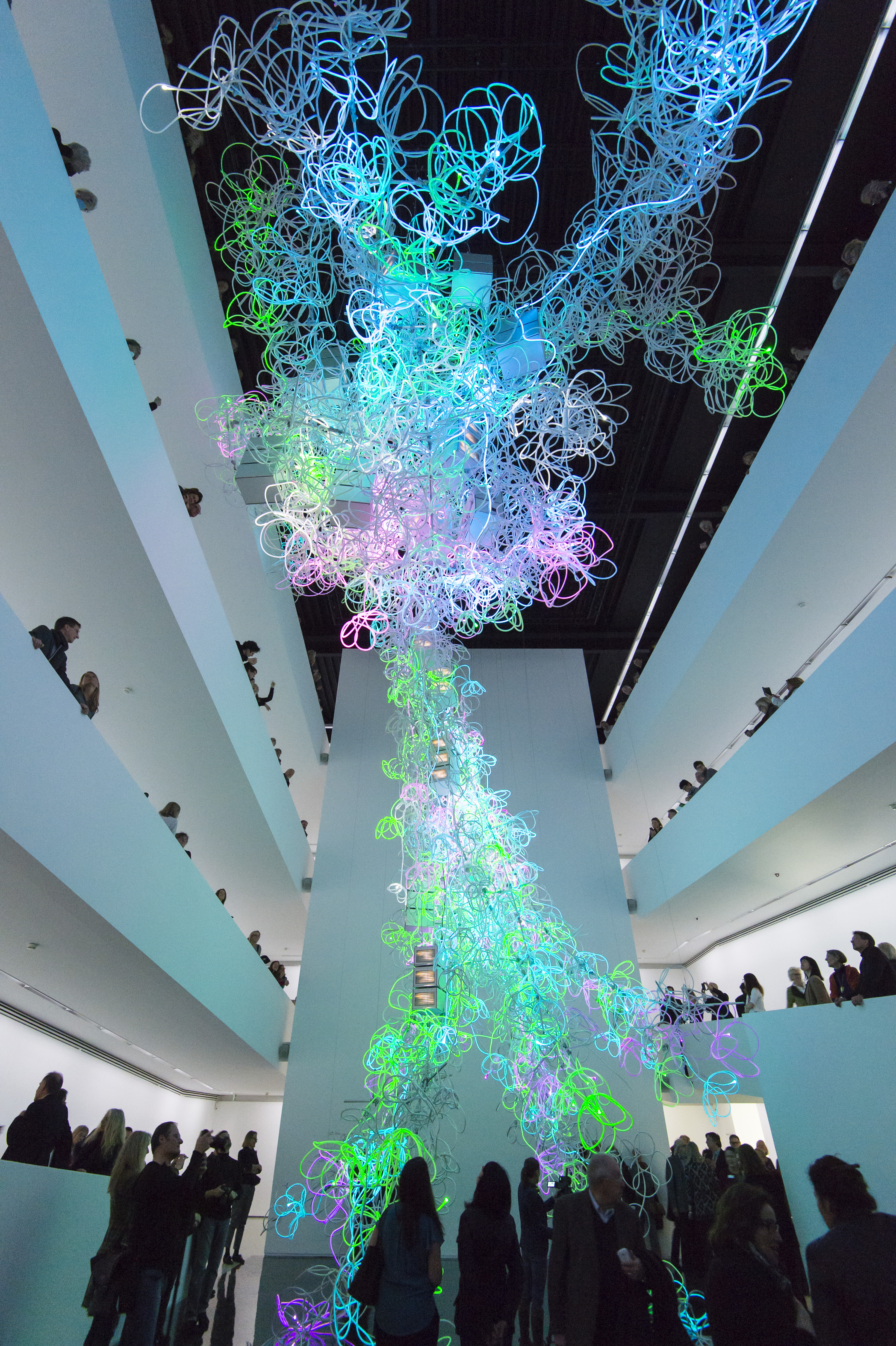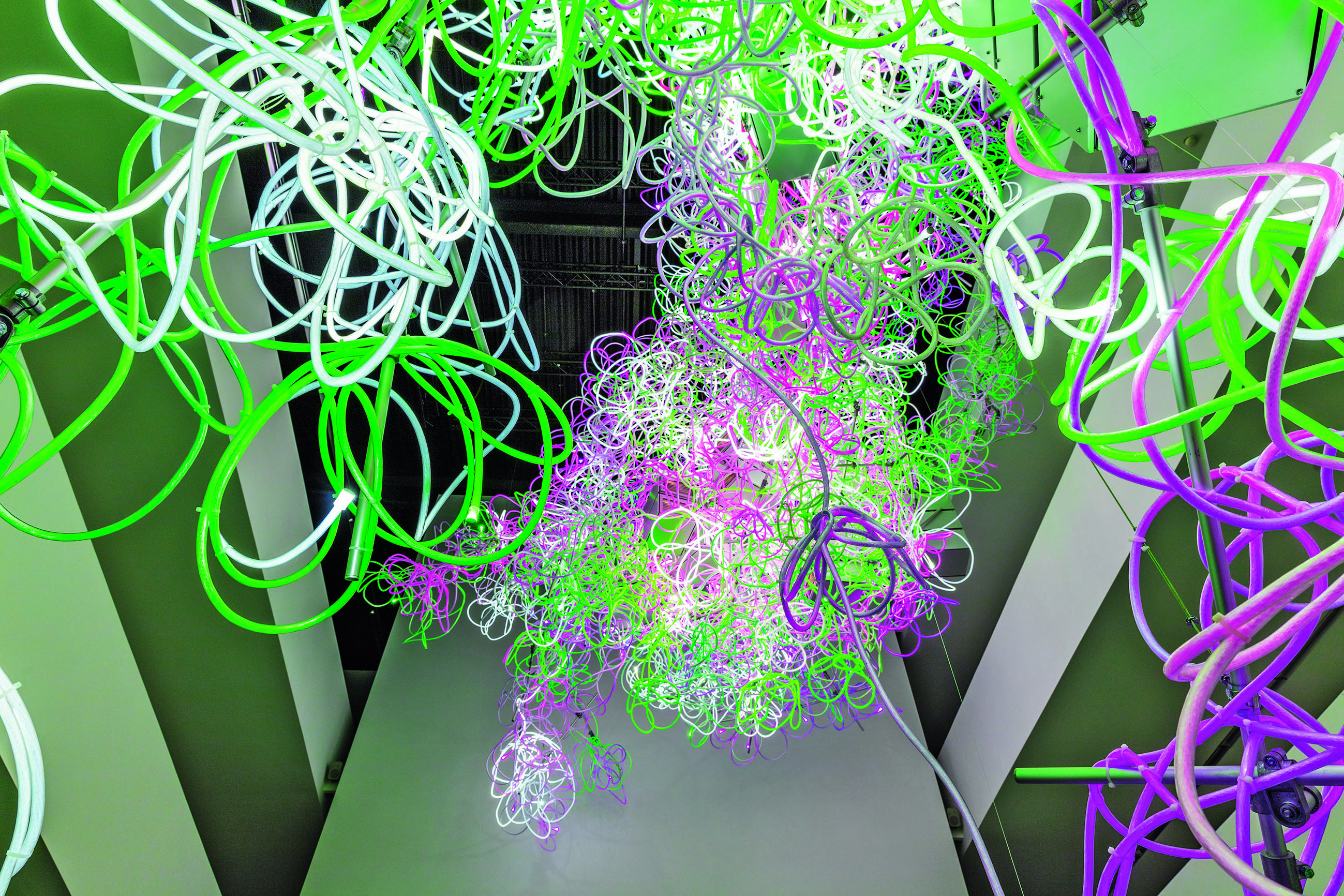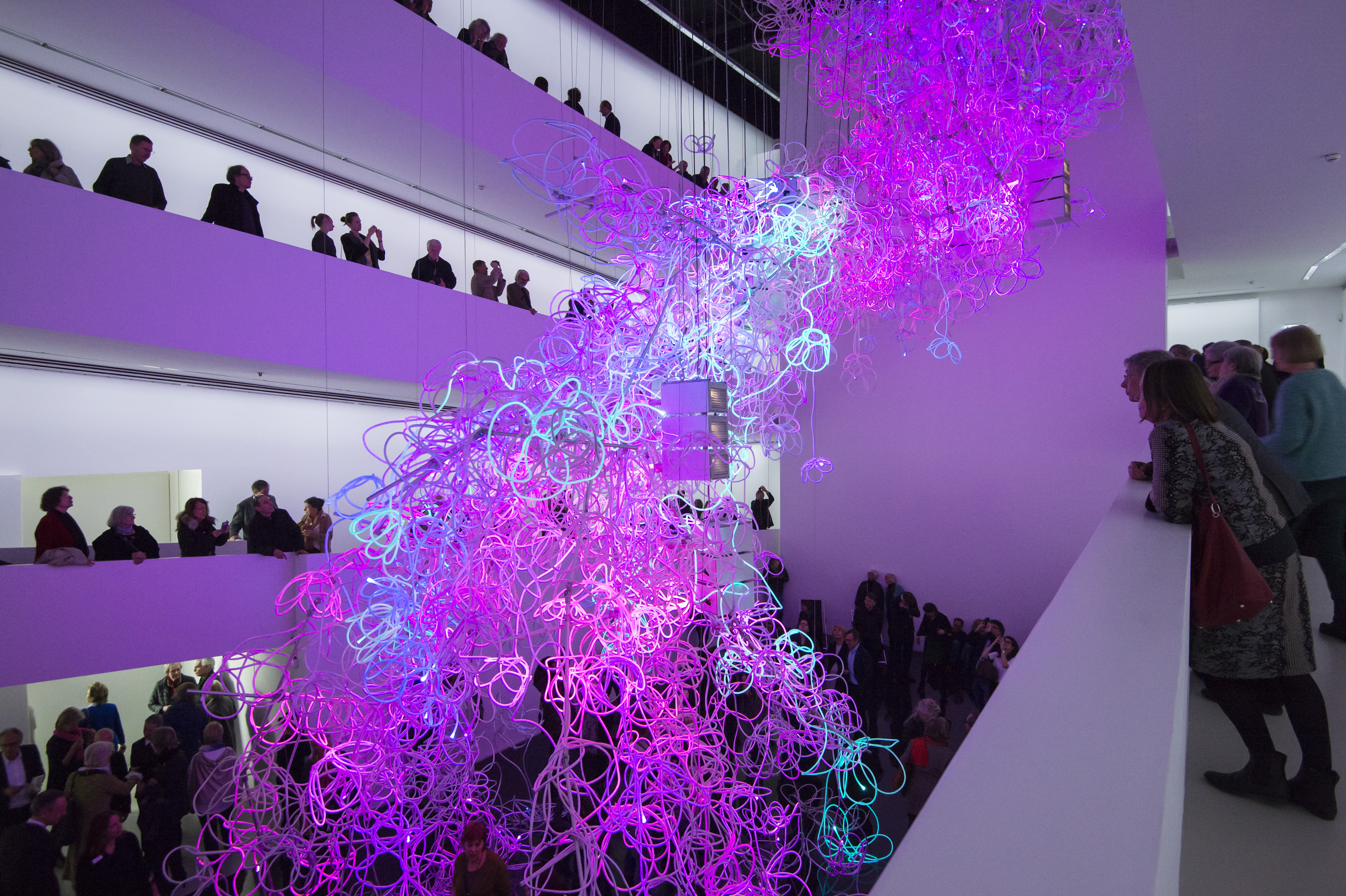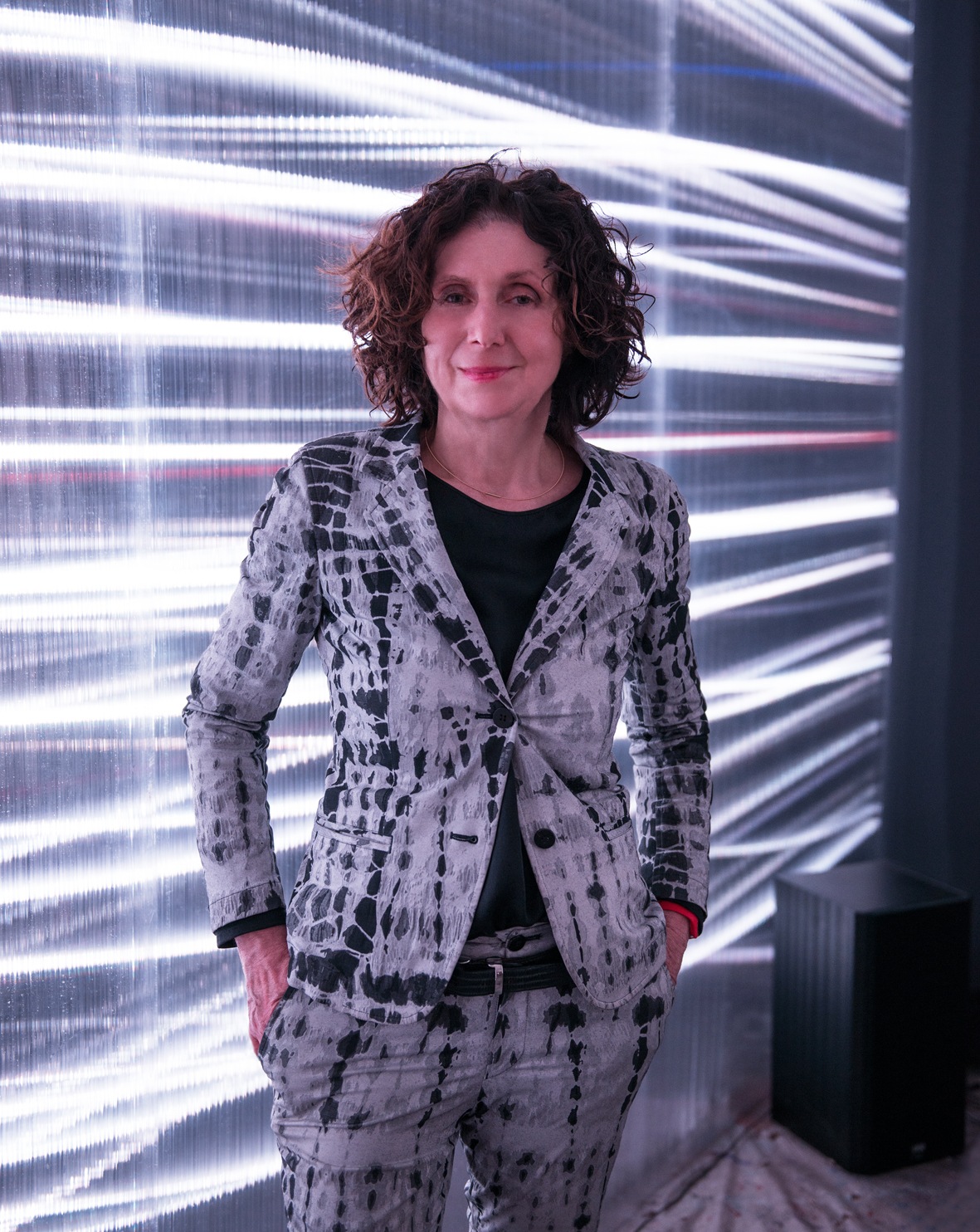 ---
rosalie, LIGHT WHIRL, 2016
Walk-in kinetic light sculpture
15 x 12 x 8 m
7.000m. Polymer optic light fibres
37 light generators
Programming, Loop ca. 25 min.
Industrial-framework: aluminium tubes and steel cable
15.000 cable ties
Total weight ca. 1.950 kg
Photos in bottom-up order:
Article-picture / Photo: Wolf-Dieter Gericke, © rosalie
Photo: Wolf-Dieter Gericke, © rosalie
Photo: Frank Kleinbach, © rosalie
Photo: Frank Kleinbach, © rosalie
Photo: Wolf-Dieter Gericke, © rosalie
Photo: Frank Kleinbach, © rosalie
Photo: Daniel Mayer© rosalie/Daniel Mayer