No Exhibition | 18.10.2022 – March 2023  
Dan Flavin's light installation to be switched off
A visionary apparition in the cityscape
Dan Flavin's iconic light installation at the Hamburger Bahnhof in Berlin is to be switched off.  – In 1996, Dan Flavin succeeded in using light to give the magnificent railway station building of the late classicism of the 1840s a futuristic appearance. Even though railway stations in the 19th century were celebrated as cathedrals of the industrial age, Dan Flavin's light installation has turned the historic station into a visual myth to this day. Using commercially available light tubes, the US representative of Minimal Art conceived a spherical light atmosphere behind which the pompous architecture enters into an immaterial aura.
Is Dan Flavin's artwork an electricity waster?
The brutal Russian war of aggression against Ukraine is now triggering a global energy crisis and energy must be saved worldwide. This also changes the view of art and museums. Everything that needs electricity and lights up indicates that a precious resource is being used. The focus is particularly critical of light art.
Setting an example
Now Till Fellrath, one of the two directors of the Hamburger Bahnhof in Berlin, has announced that the light installation "Untitled" by Dan Flavin will be switched off. Since the museum opened in 1996, the façade and a side wing of the historic building have been continuously bathed in blue and green light. The building will now disappear into darkness at night until probably March 2023. Till Fellrath explains that the measure means "a substantial saving in energy consumption". It also prioritises "the current and planned special exhibitions over a site-specific work that has now been on display continuously for 26 years." In addition to these pragmatic considerations, however, the switch-off is also an attempt to "make a visible statement in the public space". First and foremost, it is about "sustainability in general", but also about "the difficult conditions in which cultural institutions have to perform and, above all, maintain their role for the public and as educational institutions for society, especially in times of crisis".
Saving energy is a goal of museums
Even in times of the pandemic, art was classified as "not relevant to the system" and now it is art again that is supposed to take a back seat? Light art is currently being eyed with particular suspicion and demands justification – even when industrial plants are illuminated all night with glaring floodlights or gigantic billboards on the motorway are shrilly over-lit?
Museums have been converting to LED lighting on a grand scale for over 10 years and save enormous amounts of electricity. They use solar panels on their roofs. Light art doesn't need stable temperature and humidity levels in the museum at all like paintings or other organic materials.
Conservation scientist Stefan Simon, director of the Rathgen Research Laboratory, which also advises the National Museums in Berlin on energy balances and climate policy measures, explains that the discussion about individual works should not overshadow more fundamental questions about sustainability in art houses.
The wrong signal
It is certainly necessary for museums to save energy and to be more sustainable in their maintenance.
Art and culture should also set a good example – no question about that!
But a complete shutdown is the wrong signal.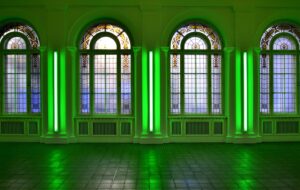 _____________________________________________________
Fotos:
Die Staatlichen Museen zu Berlin – Hamburger Bahnhof – Dan Flavin 1996