Outdoor Videoprojektions | 1.– 30. December 2017
Animated reality and magic powers
This coming December LICHTE MOMENTE will be celebrating its tenth anniversary with projections by Till Nowak and Levi Jackson. The anniversary programme presents seven site specific videos in unexpected, hidden parts of the old town. They are outstanding examples showing how in our digital suffused time reality is, via a constant stretching and overlapping of optic impressions and narrative, – that determine our view of the world – not only reproduced but indeed overwritten. Nowak and Jackson present subtle as well as exciting images – the viewer is intuitively challenged to immediately interpret.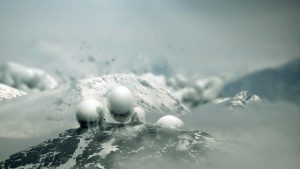 From their critical stand points both artists question the bedrock of our civilisation and discuss our relationship to nature; thus, for both artists the landscape plays an essential role. It is both the scene of the event but, at the same time, represents interpretations – and reference areas of artistic action. Whether it is the snow covered mountain and fiord world of Norway in a slow, manipulated, dreamlike version by Till Nowak or a car in a barren landscape seemingly chained in one of Levi Jackson's fanciful image worlds – both artists exhibit impressive images that one doesn't easily forget.
Till Nowak works on the connection of real and virtual worlds. Thus, he transfers supposed cinematic-documentary elements into a fictitious invented context, in the sense of an augmented reality. His projections don't leave the area of a plausible potential form, nevertheless they show deceptively real physical impossibilities. The myths are admittedly so realistically produced that the viewer can only stand there and believe it could well be plausible. In a short video clip Nowak brings an extract of a facade to life. As though it had developed its own magical strength, a rock monster rolls across the street in order then to – as though nothing had happened – integrate with the facade of the building opposite.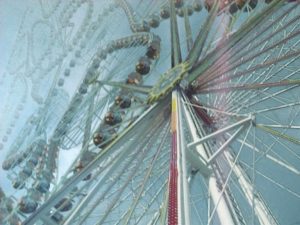 Levi Jackson stages analogue precisely-staged situations in extensive landscape areas which are, in effect, only shown in fragmented form. The result being a reference to secretive scenes. His motives are based on real physics but in their absurdity transform into illusive and unreal images of an all more powerful effect. The location is a breathlessly beautiful and yet extremely barren landscape. On its dried out cracked ground absurd scenes take place – the desolate landscape as experimental ground. The subtle almost ornamental structure of the soil's surface and the arranged scenes throw up puzzles. So the wind creates grotesqueness with a wolf's fur. The animal itself has mysteriously vanished – but its fur seems exceedingly alive. The effortlessness of the images deceives! The scene becomes a bitter comment, the fur without a body and the wolf is merely a shadow of itself. Nature is without life, only stone and sand, rocks and sky, there is no flora or fauna, the landscape serves mostly as a backdrop – in its reduced aesthetic hugely spectacular.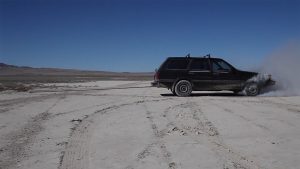 Nowak and Jackson have an intense interest in sarcastic manipulation. Their contextual focus are precisely comprehensible because they make the invisible visible in an impressive manner. Their projects offer artistic rewriting of our reality.
The curators Valérie Schwindt-Kleveman with Monika Witte and Prof. Claus Friede have decided to concentrate on two excellent standpoints in contemporary media art. Overall seven projections invite the viewer on a walk in the Heger-Tor district as well as the Felix-Nussbaum-Haus and at the Kunsthalle Osnabrück to an in-depth appreciation and reflection. They create a pleasing contrast to the annual recurring Christmas season's rituals.
Guided tours (no booking necessary) take place every Sunday at 5pm.
A flyer about the video art can be found at the tourist information centre.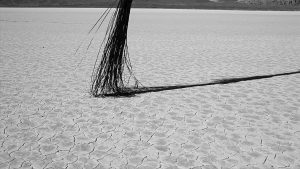 ________________________________________________________
captions:
in the slider:
Levi Jackson | Esterbend, 2014 Single Channel Video, 3:30, Still
in the text:
Till Nowak | SUS, 2011 | Video, 3:02, Still. Musik: PJUSK | Courtesy: Claus Friede*Contemporary Arts, Hamburg
Till Nowak | The Experience of Fliehkraft, 2011 | High Altitude Conveyance System | Video, 2:48, Still | Courtesy: Claus Friede*Contemporary Arts, Hamburg |  will be shown under the title "Lucky Lifeforms" in the Kunsthalle.
Levi Jackson | Proving Grounds, 2014 | Single Channel Video, 2:46, Still
Levi Jackson | Black Rain, 2013 | Single Channel Video, 5:32, Still