Exhibition | Mai 13  – November 26,  2017
Light determines places, but knows no place for itself.
Licht Light makes visible, but remains invisible itself.
Brigitte Kowanz (* 1957) is invited to present the Austrian Pavilion this year in a double exhibition with Erwin Wurm.
Light has been at the center of her work since the 1980s. "Light never stays with itself, knows no place, is constantly changing with its surroundings" she says. The incomprehensible, the fleeting – with analytical passion, Kowanz examines the space in combination with signs, codes and language. Light serves as a means of transgression and clarification, in order to question the conventional picture – and painting – grip and to define a new, integrative relationship between work, space and viewer.
Read the Preview 'Brigitte Kowanz in the Austrian Pavillon'  in:  ArtLight Magazine 2017"2 / print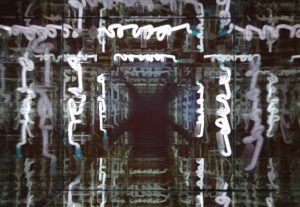 Kowanz questions the basic parameters of art, visibility, perception, and the production of meaning. Conceptual objects and installations are created in which the light can not be fixed, because it is in motion. Light is everywhere, because real mirrors penetrate the reality and the boundaries between the work of art and the viewer. Space and reality are broken down also, they expand into virtual spaces. Kowanz uses mirrors as a kind of metamedium of visual transmission. Mirrors can contain infinitely many images and penetrate the real and virtual space, by breaking down spatial boundaries and even dematerializing them. Kowanz is showing us that the possibilities of self-demarcation and interpenetration are infinitely.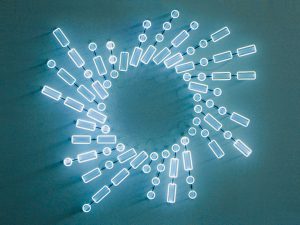 ______________________________________________________________________________________________________________________
credits:
in the slider
Brigitte Kowanz |  Coincidence |2006 | Object | Neon, Mirror | B 60 cm, L 80 cm, H 60 cm | Photo: Guido Cecere | Copyright: Bildrecht, Vienna 2017
topdown
Brigitte Kowanz |  Memoria, 2006 | Object |  Neon, Mirror | B 60 cm, L 60 cm, H 60 cm |  Photo: Guido Cecere |  Copyright: Bildrecht, Vienna 2017
Brigitte Kowanz | Morse Alphabet | 1998/2005 | Object | Neon | Diameter 280 cm | Photo: Matthias Herrmann |  Copyright: Bildrecht, Vienna 2017
Catalogue :  Brigitte Kowanz (Englisch)  –  published Mai 1, 2017 Hatje Cantz Verlag/editor | by Christa Steinle, Rainer Fuchs, Cliff Lauson, Peter Weibel