Exhibition | 22.10.2021 – 20.02.2022
Grand World Theatre in Bad Rothenfelde
This year, the lichtsicht7 Projection Triennale is entitled 'Great Theatre of the World in Bad Rothenfelde'. Curator and Artistic Director Michael Bielicky explains: "The title naturally has a lot of connotations. In the global post-Corona era, highly dynamic world events can hardly be explained with conventional methods. It is artists coming from the most diverse global cultural circles who are better at reflecting today's changing world appropriately and unconventionally through their art and do so almost in real time. The 'Great Theatre of the World' is based on a selection of top-class artists whose unusual works transport the audience into states of intoxication, dream and reflection and seduce them sensually."
Participating artists:
Conrad Veit – 100 Jahre Caligari, 2020
Eija-Liisa Ahtila – Horizontal, 2011
Jeffrey Shaw and Sarah Kenderdine – Fall Again, Fall Better, 2012
Julius von Bismarck – Fire With Fire, 2020
Lu Yang – Delusional Crime And Punishment, 2015
Lydia Hoske – Essenz, 2020
Max Hattler – X, 2012
Miao Xiaochun – Gyro Dance, 2017
Mirai Mizue – Dreamland, 2017
Nao Yoshigai – Grand Bouquet, 2019
Natalie Bookchin – the act of changing something's position, 2020
nuQ – The Last Episode, 2019
Refik Anadol – Bosphorus, 2020
Sawako Kabuki – 1980YEN, 2019
Simon Weckert – Eternal Dream, 2019
Takashi Kunimoto – My father 2, 2019
Tamiko Thiel und Midori Kono Thiel – Brush the Sky: Odoroku und Water Lily Invasion, 2013/2020
Wang Dongling – Shan Shui, 2020
Caesura to our Eurocentric perception
lichtsicht7 is concerned with shifting the accustomed, Eurocentric perception. Michael Bielicky has placed his focus primarily on art with Asian connotations: "Yes, the Asian artistic view does indeed play an insignificant role in lichtsicht7. I am firmly convinced that the diffuse term 'the Asian' is certainly sharpened by our selection of works and that the audience will be offered plenty of surprises. Our sensory offerings range from meditative works to a picture and sound cacophony of surreal, comic-like performances. I promise you that the audience will not leave lichtsicht7 in the same state they came in!"
 "The attraction of light can now be defined as information."- Peter Weibel, Artistic Director of lichtsicht 5
For the current Triennale, 38 new high-performance projectors with laser-phosphor systems will be installed at regular intervals along the graduation towers, which almost double the light output while at the same time significantly reducing power consumption. The resolution of the devices reaches almost 4k level and gives the works of art an unprecedented plasticity and the newly gained colour space achieves cinema quality.
Despite a smaller budget …
… visitors will be able to experience more positions than ever before. This is achieved by showcasing innovative student projects for the first time, alongside works by established, internationally renowned artists. There is collaboration with talented young artists from the University of Art Braunschweig, Musashino Art University in Tokyo and Karlsruhe University of Arts and Design.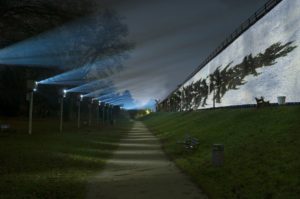 _____________________________________________________
captions :
in the slider:
| Wang Dongling  | Shan-Shui | 2020 | Foto: Angela von Brill |
in the text:
| Eija-Liisa Ahtila | Horizontal | 6-channel installation | 2011 | lichtsicht7 Projektions-Triennale, Bad Rothenfelde/DE | Foto: Franz Wamhof |
| Lu Yang | Delusional Crime And Punishment | mixed-reality video montage | 2015 | lichtsicht7 Projektions-Triennale, Bad Rothenfelde/DE | Foto: Franz Wamhof |