Exhibition | 27 – 30 October 2021
Moon – Mercury – Venus – Jupiter – Mars – Sun – Saturn
KLANGLICHT has been bringing artists from all over the world to Graz since 2015 and transforms public spaces, squares and buildings with light and sound every year. Strolling from one location to the next, visitors become part of the staging of light and colour, music and text. The invited artists were inspired by the historical image programme of the palace and its gardens, and developed works of art that connect to the baroque iconography.
Visitors are invited to explore space and time in the gardens as well as their own relationship in this continuum and thus rediscover themselves and their surroundings.
Participating artists and their art works:
Constant's Zones — studio ASYNCHROME
Klangpfade — Winfried Ritsch
Jardin des Planètes — Littmann Kulturprojekte
planeten balletten aus bausspiel fest rockenem — Max Höfler und Nikos Zachariadis
Verstrickung — OchoReSotto
FierS à Cheval — Compagnie des Quidams
A.D.D.I.T.I.V.E. — OchoReSotto
feminitiv — Michael Bachhofer, Karin Watabe-Wolfger und Karl Wratschko
TOWER — NEON GOLDEN
UN-retained — Sabine Molenaar und Cie. Sandman
beyond that — Brigitte Kowanz
Five Planets — Mischa Kuball
Wundertiere — Katja Paternoster
Spidron – László Zsolt Bordos
KLANGLICHT – SATELLITENPROJEKTE
Awaited — David Reumüller, im Kunsthaus Graz
Same Time. Different Time. — Ulrike Königshofer, Schutzengelkirche Graz
The starting point for the artistic explorations of the 6th KLANGLICHT is the universe portrayed in Eggenberg Palace and the story told by the illuminations and (candle) lights as part of the UNESCO world heritage installation.
In the "Jardin des Planètes" – the Garden of Planets – planets rise into the sky and create a universe that is as artificial as it is artistic. Nikos Zachariadis and Max Höfler whisk us away into an abstract world of sound that is an adaptation of the texts of the Planet Ballet of 1678 consisting of nine parts. The statue of the goddess Diana comes to life in the gardens: The art intervention "feminitiv" lets us experience her as a woman in confrontation with a patriarchal society, another time as a goddess fighting for identities far removed from male interpretation. Sabine Molenar's immersive video installation "UN-retained" with the dance group Sandman tells a visually powerful, poetic story of weightless dancing. The Austrian artist Brigitte Kowanz invites visitors to enter into dialogue with her installation "beyond that": With the help of a mobile phone signals can be made visible and decoded. Because gazing into space is always also a discourse on the sending and receiving of signals. In Mischa Kuball's installation "Five Planets", one is immersed in the infinity of space: by means of projection, planetary names are torn apart, lose themselves and form a galaxy all of their own again. A rich animal world bustles around on the walls inside of Schloss Eggenberg and they inspired the artist Katja Paternoster to create her own fabulous luminous creatures.
Festival of Sound and Vision organised by Bühnen Graz make the park – and Eggenberg Palace itself – shine and resound. The team of KLANGLICHT is delighted that it is able to bring art directly to people again in 2021 and offer renewed evidence that art is capable of inspiring whole communities!
Tickets for KLANGLICHT are available at the Ticketzentrum:
Adults 13,- Euro | Children 7,- Euro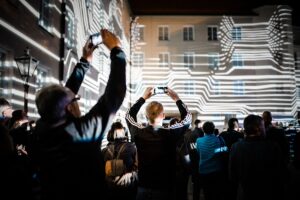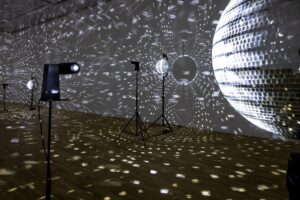 Fotos:
FierS à Cheval von Compagnie des Quidams  © Marc Van Canneyt
Five Planets von Mischa Kuball © Marek Kruzewski
Archestra of Light von OchoReSotto  © Alex Koch