Forum and exhibition  | September 26-28, 2017 
Smart Lighting

The event has been created to address the questions being asked in modern light design and technologies. It comprises of lectures, panel debates, workshops and exhibition.
A carefully curated hub, TiL 2017 will offer architects, planners, designers, manufacturers and systems integrators a unique experience, a place to learn about modern lighting and connect with international experts.
"TiL 2017 is an interactive and practice-oriented hub created by, and for, experts in order to collectively experience the future of light. It will close the gap between application, design and technology." Event Director, Siegfried Luger.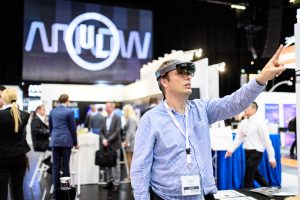 Lead architect Thomas Kinzler of Zaha Hadid Architects will share his passion and ideas about the role of lighting design in modern architecture. Lighting designer Massimo Iarussi will present the excellent lighting project for the Museo dell'Opera del Duomo in Florence, where lighting, design and the forms all contributed to finding new solutions.
In addition to the design and forms of the architecture, practical lighting system solutions will be presented and discussed. Philips, zumtobel group, Osram, Trilux and other industry trailblazers will explain the latest insights into light and present some of their intelligent system solutions.