Lichtspiele | Do, 03.08.2017 – So, 10.09.2017

urban communication

For the third time, the Karlsruhe castle will shine in a unique way at the "Schlosslichtspiele 2017" and the baroque facade will perhaps become Germany's largest screen – for light, art and sound.
participating artists:
Maxin10sity: Structures of Life
Asymptote: Hani Rashid + Lise Anne Couture: Hyperfine Splitting 008_Mediations on Jakob's Ladder
Zaha Hadid Architects: BEHAVIOUR MORPHE
Greg Lynn: Rolling Eye
Eyal Gever: CLEANSING
URBANSCREEN: INHOMOGENEOUS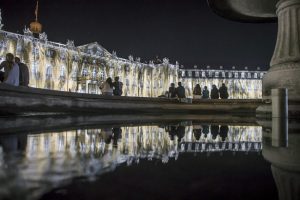 Concept: by ZKM | Center for Art and Media is a cultural institution that is unique worldwide, because it is a place that expands the original purposes of a museum. It is a place of all media and genres, of room-based arts, such as paintings, photography, and sculptures, as well as of time-based arts such as film, video, media art, music, dance, theater, and performance.
________________________________________________________
caption:
| © ZKM | Karlsruhe, Foto: ARTIS – Uli Deck