| THE WORLD IS THE CANVAS | 2016 | 
'…Sounds harmless, but is overwhelming! How the beams of white light morph, grid, overlap, become colourful, dance, throw out nets – all that picked up wonderfully by the music, but also going beyond that – it's simply ingenious. Never has the expression "light organ" been as apt as here, when Theinert improvises with light on his instrument in real time and without link-up to the musician…' (Oliver Hochkeppel, Süddeutsche Zeitung 3.10.2010).
The abstract projections fill the entire space. The world, as it is, becomes a canvas and merges with the artistic expression of the light graphics. We suddenly become aware that that which we see is merely a constantly changing membrane of light appearance. In the light concerts these light sketches are spontaneous and compatible with the live music. Space, sound and light become a concertante synthesis of the arts.
Kurt Laurenz Theinert, Stuttgart/De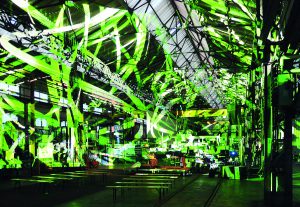 | visual piano | Kurt Laurenz Theinert | the world is the canvas | Lichttage Stendal | 2016 |