Tillotson Design Associates, New York City/USA
Painting with picturesque light
This year, Suzan Tillotson's lighting design consultancy received three IALD Awards of Excellence. Founded in 2004, the office is based in New York City. The diverse team has backgrounds in architecture, interior design, and theatre. With several LEED (Leadership in Energy and Environmental Design) accredited professionals the office includes a set of rating systems for the design, construction, operation, and maintenance of green buildings, homes, and neighbourhoods that aims to help building owners and operators be environmentally responsible and use resources efficiently.
Gateway Arch Museum in St. Louis
Bloomberg European Headquarters in London
London Mithraeum
Article in ArtLight 2019/4.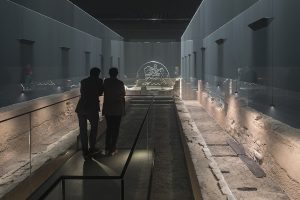 ______________________________________________________
im Slider:
| Tillotson Design Associates | Bloomberg European Headquarters London, England UK | Foster + Partners, London | Stanhope | AECOM | Charles Funke Architect | AKT II | SWECO | Photo: © Nigel Young/Foster + Partners |
in the text:
| Tillotson Design Associates | Gateway Arch Museum St. Louis, USA | Cooper Robertson | James Carpenter Design Associates | Trivers Associates Architects | Michael Van Valkenburgh Associates | Randy Burkett | KJWW Engineers | McCarthy Building Company | GECO | Haley Sharpe Design | Durlum | Photo: © Sam Fentress |
| Tillotson Design Associates | London Mithraeum London, England UK | Schreiber Studio | Studio Joseph | Foster + Partners | Jake Barton | Museum of London Archaeology | Sir Robert McAlpine Ltd | Bloomberg L.P. | Photo: © James Newton, JN Photographs |