an immersive concept with natural scenery and dynamic moments
Melbourne-based ambience was commissioned by Pattern Studio's interior designers to develop an outstanding and extraordinary lighting concept for Nagnata's flagship store in Byron Bay in the Australian state of New South Wales.
Ambience and Nagnata, both companies have sustainability and ecology on their flags
Ambience are Australian lighting design & supply specialists working across all architectural categories. Formed in 1987 they consist of designers, workshop technicians, technologists and project managers Their work has achieved accolades at numerous international architectural lighting design and product design awards including [d]arc, LIT, IES and London Lighting Design Awards. Passionate about progressive lighting, they place an emphasis is on new technologies and environmental responsibility.
Nagnata is a luxury fashion and lifestyle brand informed by movement and mind practices. Sustainability, inclusivity and a celebration of diverse culture are at the heart of the process. Founded on the philosophy of sustainably minded design Nagnata's considered approach to design holds a respect for honesty of material and its impact on both the body and the planet.
"Only recycled and recyclable packaging with no plastic and digital install guides were used." David Justice, ambience Managing Director
Circular economy is part of the leading principle at ambience
Saving energy and minimizing consumption are a key concern of the strategy. Repurposing, recycling and reusing in design, production and packaging are expressions of ambience's ecological commitment. This includes minimizing waste and maximizing efficiency.
» read interview with David Justice
Scene setters – an immersive concept
".. almost as if we have painted the entire location using light, transforming this stylish serene sanctuary into a charismatic and exuberant environment." David Justice, ambience Managing Director
The scene design follows the colors and tones of natural daylight from dawn until nightfall. After sunset, the colors become more intense. A series of Bluetooth-controlled linear RGB warm white lights run centrally through the ceiling. They are interconnected with other light sources that cannot be seen to bathe the entire store homogeneously in colored light. The placement of the lights and the colors were chosen with careful precision so that when visitors are in Nagnata's store, they never know where the light and colours are coming from.
» read interview with David Justice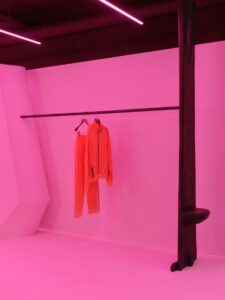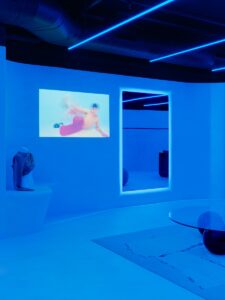 _____________________________________________________
Photos / credits :
Lighting design & commissioning > ambience – David Justice, Josh Cain | Site > Nagnata Flagship | Location > Byron Bay, Australia | Interior design > Pattern Studio – interior design |  Lighting supply > Symphony Lighting | Photos : Tom Ross | Luminaires Featured > Panorama Smooth Suspended, Andro Adjustable Surface Mounted, Andro Track Mounted, Bendable Medley |