Symposium + Expo | September 24 – 26, 2019
A platform for design, application and technology
Trends in Lighting Forum & Show has been designed to focus on, and debate, all the big questions and best practices surrounding the latest trends in architectural and urban lighting designs, including smart lighting solutions for indoor and outdoor lighting. Attendees will learn from the most compelling architects, planners, designers, and technologists and over 100 international lighting solution providers will also showcase their latest designs. The conference and exhibition are tailored for a delegation of architects, lighting consultants, lighting manufactures, electrical consultants and lighting designers and TiL 2019 is set to be a truly immersive experience, one that will help to bridge the gap between design, application and technology. "The TiL event gave us a human centred and highly focussed insight into the latest technologies and ideological developments inside the LED industry. As a designer, I enjoyed this carefully curated, international event that seemed like the litmus proof of all things relevant in LED lighting – its current trends, design and its future perspectives." Helmut Kinsler, Head of VR, Zaha Hadid Architects.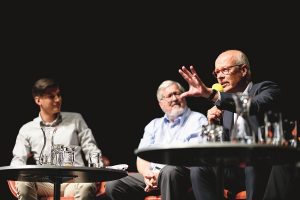 Keynote
Attendees will learn from the most compelling architects, planners, designers, and technologists, including the stellar keynote, Keith Bradshaw from Speirs & Major. Keith became a Principal of Speirs + Major in 2009. He is based in Edinburgh and directs projects from both of Speirs + Major's studios. He has led many of the practice's award winning international and UK projects, including the Copenhagen Opera House, Sheikh Zayed bin Sultan Mosque, Shenzhen Airport and flagship stores for Giorgio Armani in Tokyo, New York, Milan and Beijing. Noteworthy current projects include urban realm projects in Miami, Helsinki and Hong Kong and civic buildings in Rome, Oslo and Beijing. He regularly publishes articles and has been a keynote speaker at design conferences around the world. He has also lectured and taught practical workshops to a range of students. Keith was invited to be a fellow of the RSA in 2013. – There will be the chance to get hands-on and to explore light, and its possibilities in a series of detailed and informative workshops delivered and lead by internationally renowned organisations including Bartenbach and Zumtobel. They will cover a range of subjects including miniaturization, LiFi, and the potential of Bluetooth and IoT. Multiple panels debates will also take place through the 3 day event, giving the greatest and most influential minds in European politics, lighting design, research and architecture a platform from which they will share their visions, ideas and desires for the future of lighting.
TiL 2019 Awards
Every year TiL celebrates the complete spectrum of light. The very best system, design, solution or service showcased at TiL 2019, one that demonstrates uniqueness, sustainability and the highest-quality in the field of Solid-State Lighting, will be honoured with the converted TiL Award. The organisation behind TiL 2019, and who will delivering this ambitions event, are Luger Research. The group are also the experts behind the globally successful LpS series of conferences and the widely respected LED Review publication. With over 17 years dedicated to technologies in lighting, this group of experts recognise the need to bring the two worlds of technology and design together, to open up the dialogue and to allow the experts to explore the future of lighting design together. "We launched Trends in Lighting back in 2017 because we believed that the possibilities of light were reaching their zenith, and we were right. In 2019 the users of light, the designers, the architects, the manufactures and the consultants have almost limitless possibilities when working with light due the power of modern technology. We want to give every attendee an immersive experience into light, we want people to recognise the potential of light and we want to explore light to contribute to sustainability and well-being, now and for the future." Siegfried Luger, Event Director.
TiL 2019 is begin carefully curated by a panel of experts over the coming months and you can keep up today via the events website on all the latest news and event updates. If you want be part of this years must attend event, tickets are on sale now.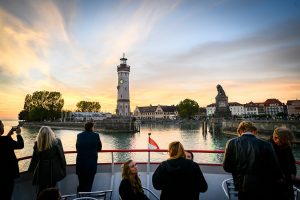 ______________________________________________________
| Photos copyright: Matthias Rhomberg, 2019 |