Exhibition | Mai 5 – September 19, 2021
Referenzräume
The large-scale exhibition ReferenzRäume provides an insight into the work of Mischa Kuball. It shows room-sized installations, photographs and video projections as well as documentation from the work complex 'public preposition', i.e. those works realised in public spaces.
Asking questions that need asking!
Themes such as appearance and reality, illusions and codes, space and time are as firmly anchored in Mischa Kuball's work as is the critical examination of art itself. In his work, he exposes social modes of action as well as political discourses, which are simultaneously subjected to revision through his artistic interventions. To this end, he orchestrates the office lights of a high-rise building at night into light choreographies that point to energy consumption or light pollution in the night skyline. Or he lets a gauzy rescue blanket be blown by the wind through streets or landscapes, which in its lightness and fragility recalls the vulnerability and finiteness of human life, but also the rescued refugees at the borders of Europe. Mischa Kuball: "In every project, different questions have to be asked because an installation is not only site-specific but also context-specific."
What drives the artist?
This major exhibition makes it possible to see, experience, understand – and question – Mischa Kuball's important works of the last three decades. What is the common thread running through his work? Under what conditions does a work come into being? Are there continuities?
Exhibition catalog > Mischa Kuball | ReferenzRäume
Edited by Andreas Beitin, Holger Broeker and Fritz Emslander. As an artist's book, the picture section is designed by the artist himself and opens up connections between the works. With texts by Lilian Haberer, Daniel Horn, Christina Irrgang, and Marcus Steinweg. | German/English | Publisher: Franz and Walter Koenig, Cologne | 384 pages | 38 Euro.
Interview with Mischa Kuball in the upcoming August issue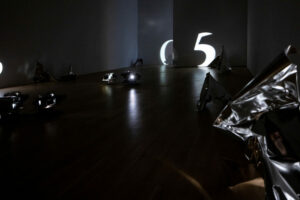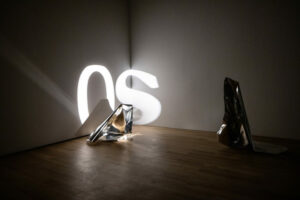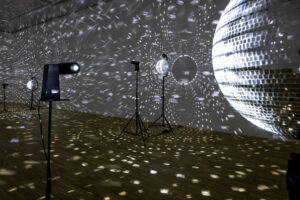 credits :
| Mischa Kuball | platon's mirror | 2011 | Video (Room 1/4) | 16:9, color, autopole system, mirror film, | Installation view Kunstmuseum Wolfsburg 2021 | © Archive Mischa Kuball, Düsseldorf / VG Bild-Kunst, Bonn 2021 | Photo: Marek Kruszewski |
| Mischa Kuball | broca Re:Mix (detail) |  2007 |  10 metal objects, 6 slide projectors with 81 slides each, 6 lenses, 6 turntables, 6 timers |  Installation view Kunstmuseum Wolfsburg 2021 | © Archive Mischa Kuball, Düsseldorf / VG Bild-Kunst, Bonn 2021 | Photo: Marek Kruszewski |
| Mischa Kuball | five planets |  2015 | Mirror balls, rotary engines, gobo spotlights, 5 of each | Installation view Kunstmuseum Wolfsburg 2021 | © Archive Mischa Kuball, Düsseldorf / VG Bild-Kunst, Bonn 2021 | Photo: Marek Kruszewski |