Exhibition| March 31 – May 22, 2021 | will be extended
LATENCIES

The exhibition LATENCIES by Daniel Canogar (*1964, Madrid) shows, in addition to his two series of works SMALL DATA and ECHO, his latest series LATENCIES, created in 2021.
"Canogar investigates the interfaces and transitions between virtual and real worlds. In expansive, large-scale installations and generative video animations, the artist is dealing with the impact of media technologies on society; he vividly presents the transition from electromechanical to digital systems and is searching for the individual person's impact and position in the technologically networked world." > Citation: Sabine Himmelsbach, Director/HeK Basel
The life and death of digital technology
For the SMALL DATA series (2014-2016), Canogar sought out his material in dumps and recycling yards for electronic waste. Once, we entrusted these devices our private and economic data, now they are just metal garbage. By throwing them out, we also throw away a part of our past. But the artist works like an archaeologist, arranging the found objects like precious relics of a bygone era.
Animations, speed, rotation and colour
The video installations of the ECHO series (2017) transmit data of natural phenomena in real time – they open up to the eternally flowing data streams of the World Wide Web and react to information about rain, temperature or wind, but also about air pollution and the seismic activities of the earth. The incoming data is controlled by an algorithm and transformed into abstract animations. In this way, Canogar transforms natural processes into dynamic fluid patterns. For this, he developed special screens made of LEDs with flexible, rubber-coated conductor plates that can be deformed like fabric. The technical components, however, remain consciously visible elements of the art work. Thus, the screen appears as a pliant membrane that gives light to the space and activates it.
The beauty of technological cadavers
In the series LATENCIES, Daniel Canogar addresses the data society and reflects on a world in media transition. The installation 'Zen' is inspired by Japanese Zen gardens, while at the same time the work 'Dissipate' refers to the technoid beauty of individual electronic parts. In 'Monocle', the act of seeing itself is visualised as is the discovery of other worlds and life forms. 'Tide' is the most melancholic of works in this series, recalling the rubbish we throw into the oceans but which the waves wash back onto our beaches.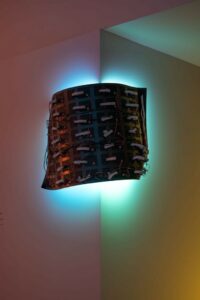 Technological development and its consequences
In his works, Daniel Canogar seeks an artistic dialogue with the digital world – like a chronicler of technological change, he follows its effects on man and nature. These works encourage a critical questioning of our affluent and disposing society and of an industry aimed at replacing existing things ever more quickly with ever more intelligent versions.
Daniel Canogar explains: "My artworks are conversational pieces. Every time the viewer sees them, they will be reminded that they are responding, echoing, listening to the data that is tracking climate change, hopefully arousing more awareness of what is happening on our planet." > Citation: Daniel Canogar
Captions + credits:
Daniel Canogar | Basin – Echo Series | 2017 | Flexible LED screen, computer, generative custom software, real-time data, metal frame | Edition of 3 + AP | Photo: Jorge Anguita | Copyright: Daniel Canogar | Courtesy of Galerie Anita Beckers and the artist |
Daniel Canogar | Ember – Echo Series | 2017 | Flexible LED screen, computer, generative custom-made software, real-time data, metal frame | Edition of 3 + AP | Photo: Jorge Anguita | Copyright: Daniel Canogar | Courtesy of Galerie Anita Beckers and the artist |
Daniel Canogar | Echo 2016 | Flexible LED screen, computer, generative custom-made software, real-time data, metal frame | Edition of 3 + AP | Photo: Jorge Anguita | Copyright: Daniel Canogar | Courtesy of Galerie Anita Beckers and the artist |
Daniel Canogar | Troposphere – Echo Series | Flexible LED screen, computer, generative custom software, real-time data, metal frame | Edition by 3 + AP | Photo: Jorge Anguita | Copyright: Daniel Canogar | Courtesy of Galerie Anita Beckers and the artist |
Daniel Canogar | AC – Small Data Series | 2014 – 2016 | Discarded calculator, wood, projector, multimedia player. Video loop: 05:18 min | 210 x 60 x 38 cm | Edition of 3 + AP | Photo: Jorge Anguita | Copyright: Daniel Canogar | Courtesy of Galerie Anita Beckers and the artist |