Luminale | 
March 18 – 23, 2018
Frankfurt shines again!
The Luminale Festival of Light has been taking place every two years in Frankfurt and the Rhine-Main region since 2002. Founded as a supporting program to the Light+Building, the international trade fair for light and building technology, today, with over 200,000 visitors, it is a hugely popular event and a fixed point in the cultural life of the city.
In its ninth edition, the Luminale 2018 is making its mark with a completely renewed concept. As biennial for light art and urban design, it will illuminate the city's streets, squares and buildings – and current issues of urban development will provide an added contextual focus. The Luminale understands urban design as a key and complex future task in the hot-button areas between commerce and ecology, architecture and technology, science and politics. The Biennial brings professionals and citizens together from various sectors to encourage dialogue and debate.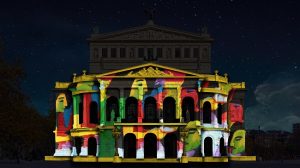 The Luminale illuminates and enlightens – for the first time, the Biennial's extensive program will unfold into five sections, each with its own focus: selected items of themed light art in Art, talks and lectures with renowned experts in Solutions, projects from academies, universities and other educational institutions in Study, as well as self-organized contributions and initiatives from various fields in Community. Finally, the Better City segment is dedicated to those projects that will permanently remain in the cityscape and thus provide a contribution to the sustainability of the entire festival.
Read the full article by Susanne Tenzler-Heusler, Leipzig/DE in the latest issue of ArtLight.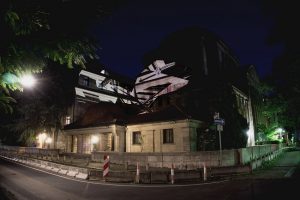 _______________________________________________________
caption:
in the slider:
| Designkollektiv Karmachina | Alte Oper Frankfurt | © Karmachina |
in the text:
| Designkollektiv Karmachina  | Ernst Ludwig Kirchner, Varieté; Englisches Tanzpaar, ca. 1909 (1926), Städel Museum, Frankfurt am Main | Alte Oper Frankfurt |  © Karmachina |
| Florian Schunck und Felix Dölker | Westend Synagoge verhüllt | © Schunck Dölker |