Exhibition| May 7 to August 13, 2017
35 Years of the SCHROTH COLLECTION

One special focus of the SCHROTH COLLECTION lies with positions in which light plays a key part. In the jubilee exhibition providing an overview of the collection's development and characteristics, therefore, a separate section is dedicated to such positions. Spencer Finch and Inge Dick are represented by works that explore the perception of specific, continually changing daylight, and Rudolf de Crignis and Winston Roeth e.g. have made the relations between colour and light a focus of their artistic activities. In the works of Anne Blanchet, the ambient light is promoted into an image-constituting medium. The effects on our perception of the fall of light onto a white surface is thematized by Hartmut Böhm's object. Light and shade also play a central part in several works by Klaus Staudt. The finest, progressive graduations of brightness can be observed in James Howell's "Six part progression".


It is also possible to find many works in other parts of the exhibition in which light is particularly significant. Consequently, part of the exhibition is dedicated to the theme of space and how we experience it: this includes two large works by Pieter Vermeersch that evoke a spatial impression via light and shade within a coloured surface, or a work by Daniel Buren, in which the ambient light paints an image on the wall and the floor. A large-format work by Douglas Allsop appears light despite the deep black material used because of its highly polished, shining surface. Frank Gerritz explores the reflections of ambient light on different materials and structures.
Jan van Munster uses neon tubes to retrace an EEG image of his brain waves, so making human cerebral energy visible with the physical energy of light. François Morellet, by contrast, uses neon tubes to visualize mathematical-geometric laws.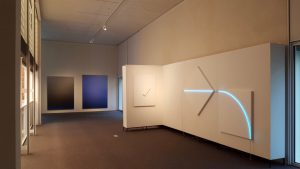 The diversity of the positions shown facilitates intense perceptual experiences of light not only within the artworks of the exhibition, but also beyond – in our environment and everyday situations.
captions:
in the slider:
Jan van Munster | Brainwave | 2004 | Foto: Wolfgang Ludkowski | © Jan van Munster, VG BILD-KUNST Bonn, 2017
in the text:
view into the exhibition | with works of Spencer Finch (1, 2, 3, 4 v.l.), Inge Dick (5 v.l.) und Winston Roeth (6 v.l.) | Stiftung Konzeptuelle Kunst, Ulli Sowa | © Inge Dick, VG BILD-KUNST Bonn, 2017
Anne Blanchet | CCCLX | 2013 | @ Stiftung Konzeptuelle Kunst, Ulli Sowa
view into the exhibition | with works of Pieter Vermeersch (1, 2 v.l.), Imi Knoebel (3 v.l.) und François Morellet (4 v.l.) | Stiftung Konzeptuelle Kunst, Ulli Sowa  | © Pieter Vermeersch, Imi Knoebel und François Morellet, VG BILD-KUNST Bonn, 2017
[/su_column] [/su_row]