Festival | October 25 to 28, 2018 
LET THERE BE LIGHT! TAVA 2018 is going to be ELECTRIC!
TAVA2018 is not only entertainment; it is also an event with a deep mission and vision. The festival wants to make a contribution to the success of the developing light art and lighting design in Estonia will make an impact on the world's light art and lighting design future.
The festival takes place in Tartu for the second time with the mission to introduce the role of light in our everyday living environment. The aim is to activate the public space, to make the municipalities aware of different options and ways to make good lighting design choices.
There will be also teaching the general public easy ways to avoid light pollution, bad lighting and wasting light.
TAVA2018 is organized during the autumn season, when light, its absence or wrong use plays an important role for urban residents – dark periods require high quality lighting.
Tartu in Light has two target groups :: professionals and students of art, design and architecture or specialists whose work overlaps areas with light art. The second group consists of the people from the street – locals and foreign, who will come to the festival to enjoy the work of professionals and accumulate the fascinating harmony of light and shadow and colours in the ancient city of Tartu.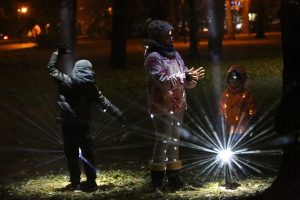 Tartu in Light is different from other light festivals due to its major focus on lighting education.
Everyone who wants to improve his knowledge or exchange his experience, to inspire others or to get inspiration should join the festival. All TAVA workshops are curated by Sabine De Schutter, offering five different insights into light education.
– – IALD Lighting Design –  – Mapping and  3D Mapping – –  Interactive Light Art workshops – –
Right after the workshop week, there will be a two-day long Lighting Design and Light Art Conference and Lightfair, curated by Johan Moritz and Tina Wikström.
Participating  teachers and artists are:
Amardeep M. Dugar
Johan Röklander
Ruta Palionyte & Simas Rinkevicius
Alyona Movko
Sander Tuvike
Varvara&Mar
Claire Tomara
Emre Güneş
Johan Röklander
Lina Färje
Darío Nuñez Salazar
Immanuel Pax
Taavi Suisalu
Mónica Ruiz Loyola
Timo Toots
Mischa Kuball
Jacob Tækker
Carl Michael von Hausswolff
Liisa Hirsch
Artist Unknown
Tammo Sumera
Kristel Saan
Johannes Luik
Aivar Tõnso
Registration to the workshops and conference is open – please consult the website for all details.