Exhibiton | 30. September to 9. October 2022
REMONDIS Light Award
With its transformation from the centre of the coal and steel industry to the third greenest city in Germany and the Green Capital of Europe, Essen stands for sustainability and change like hardly any other major city. Together with REMONDIS, the Essen Light Festival is once again taking up this theme and presenting the REMONDIS Light Award for the third time. The winners will present their light installations, light art or video mappings at the Essen Light Festival.
With an average of 400,000 visitors, the Essen Light Festival is one of the largest and most important light art festivals in Germany. For the seventh time now, the festival is enthralling international visitors along a route that is around two kilometres long.
REMONDIS is one of the world's largest service providers for recycling, service and water. Sustainability and the conservation of resources are the main pillars of the company's philosophy and shape every business division at REMONDIS. In over 30 countries around the world, the german company is committed to improving living conditions in a sustainable way and ecological, economic and social responsibility processes are closely interlinked.
Light artists from all over the world can submit their projects for the REMONDIS Light Award and for Essen Light Festival in general. New or already completed or exhibited projects of any size are eligible. To win the Remondis Light Award they must deal with the subjects of the recycling economy, the environment and sustainability. The artists are free to choose whether the installations are made of recycled materials or whether the theme is realised in the form of video mappings, for example.
Circular economy, ecology and sustainability
"I am always thrilled with the quality of the applications," says Guido Hanning, managing director of REMONDIS Region West. "We are delighted that we, as a partner, can play such a significant part in shaping the festival." Richard Röhrhoff, managing director of EMG – Essen Marketing GmbH is glad to have REMONDIS on board once again, "REMONDIS is the perfect partner for the Light Festival. Recycling is about making something new out of something that already exists. To a certain extent, we also make this change every day at the Light Festival. Through light and art, we present the city in a completely new light every evening."
Call for Entries »» REMONDIS Light Award
The call is open until 15th of March 2022
The winners will be announced in June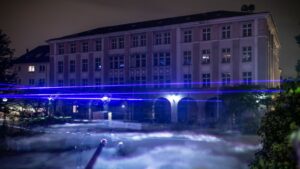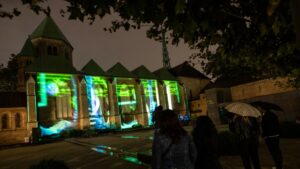 _____________________________________________________
Photos:
| Luzinterruptus | The plastic, we live with | 2017 | FAB Festival in Bordeaux, France | © Luzinterruptus, Photo © Lola Martinez  |
| VIGAS (Leandro Mendes) | Light Falls | 2021 | 1,50m x 5m | PVC Ducts, addressable LED strip, metal structure | © VIGAS (Leandro Mendes) |
| LOOMING STRUCTURES | Laserinstallation | Licht + Struktur, Fabian Lasarzik & Jürgen Kleine, Essen | Spielzeit: 10-minütige Special-Performance | Ort: Weberplatz |
| DOM∙O∙POLY | 3D-Videomapping | Hannes Neumann, Düsseldorf | Musik: Daniel Kurniczak, Essen | Ort: Dom|