TOTAL RECOURSE –  IM LAUF DER DINGE 
On an endless loop shaped like a horizontal eight, container wagons in large toy size circle without beginning or end. Sometimes a wagon seems to stay behind, sometimes a wagon seems to drive ahead, here the convoy condenses into a traffic jam, there it dissolves again – the wagons influence each other. At the rail junction, they pass each other extremely close and the sequence appears like a paradoxical zipper that constantly opens and closes. It becomes clear that with a single imprecision everything could collapse: The accident implicitly belongs to the system, as a deposited probability. In addition, the container trolleys radiate word-light images.
The work is a hybrid of a soberly ambitious model railway system and an industrial, automated distribution system. A built film that operates performatively and scenically between fairground attraction and exhibition stand, industrial and exhibition operation, model and image, simultaneity and non-simultaneity, Kronos and Kairos, decoupling and coupling, feedback loop, strange loop and short circuit, control and loss of control, presence and absence, attraction and rejection, tension and relaxation, alarmism and drowsiness, paradox and logic.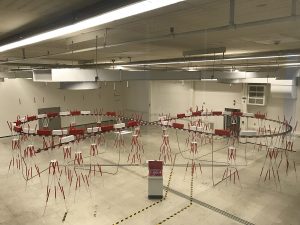 | Boris Petrovsky | TOTAL RECOURSE –  IM LAUF DER DINGE | Installation view, 2019 | © VG Bild-Kunst, Bonn 2018 | Photo: Janosch Blummer| also photo in the slider |
| Link to website |