Exhibition | 27.11.2021 – 20.03.2022
Light – a political, social, ecological statement
The exhibition presents artistic positions which intentionally focus on such topics in which light has political, social, and/or ecological significance in a broader sense – and this against the backdrop of the current tension between luminous pollution due to the ever-increasing lighting and illumination mania on the one hand and, on the other hand, increasingly sophisticated lighting concepts with a focus on saving energy – and thus also in a figurative sense on the use of resources in general.
The curators Andreas Beitin and Holger Broeker work with a traditional, positive metaphor of light, according to which light, that is to say brightness, is good, and darkness is bad or evil. They show that in the course of history, however, the prophesied place of eternal light sometimes turns out to be a place of torture.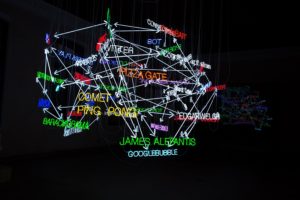 Artists:
Mathis Altmann, Awst & Walther, Maja Bajević, Matthias Berthold, Joseph Beuys, Christian Boltanski, Monica Bonvicini, Daniel Canogar, Claire Fontaine, Jürgen & Nora Claus, Bill Culbert, Sven Drühl, Sam Durant, Olafur Eliasson, Patrick Fenech, Kendell Geers, Douglas Gordon, Tue Greenfort, Petrit Halilaj, Jeppe Hein, Georg Herold, Lori Hersberger, Gary Hill, Damien Hirst, Stephan Huber, Alfredo Jaar, Anne Marie Jugnet & Alain Clairet, John Knight, Brigitte Kowanz, Mischa Kuball, Dominik Lejman, Claude Lévêque, Los Carpinteros, !Mediengruppe Bitnik, Mario Merz, Tatsuo Miyajima, molitor & kuzmin, Robert Montgomery, Heike Mutter und Ulrich Genth, Maurizio Nannucci, Bruce Nauman, Warren Neidich, Nana Petzet, Daniel Pflumm, Bettina Pousttchi, Tobias Rehberger, Bernardí Roig, Gregor Schneider, Marie Sester, Paul Thek, Nasan Tur, Tim Noble & Sue Webster, Timm Ulrichs, Mariana Vassileva, Peter Weibel, Cerith Wyn Evans u. a.
_____________________________________________________
credits :
in the slider:
| Lori Hersberger |  Sunset 164 | 2006 | Neon, schwarzes Floatglas, 1,84 x 3,68 m (Neon) | Installationsmaße variabel | © Lori Hersberger Studio, Zürich | Foto: Hans-Georg Gaul, Berlin |
in the text:
| Warren Neidich | Pizzagate | 2017 | Neon Glas Skulptur | 400 x 500 x 280 cm | Edition 2/3 | Privatsammlung | Courtesy PRISKA PASQUER, Cologne | © Warren Neidich ||
| The exhibition will be accompanied by a catalogue (German/English) with contributions by Andreas Beitin, Holger Broeker, Jo Joelson, Annette Krop-Benesch, Christoph Markschies, Julia Otto, Michael Schwarz et al from the fields of art history, sociology, biology, theology and philosophy. |
Termin: 27.11.2021 – 20.03.2022
Adresse: Kunstmuseum Wolfsburg, Wolfsburg/DE