Grand World Theatre in Bad Rothenfelde
The dimensions of the graduation houses are enormous. The approximately 1 kilometre long art trail around the up to 14 metre high walls of the graduation works forms a projection surface of blackthorn brushwood of a total of 10,000 square metres in the spa gardens of Bad Rothenfelde. The works of art are projected directly onto the ramified, structured and glistening wet walls of the historic salt works.
The artistic director Michael Bielicky has placed his focus primarily on art with Asian connotations, thus making a break in our accustomed, Eurocentric perception. – In the times of Corona, lichtsicht7 offers an ideal format for viewing the projections outdoors, with the best fresh air enriched by spring brine.
Artists:
Miao Xiaochun – Gyro Dance
Tamiko Thiel und Midori Kono Thiel – Brush the Sky, Water Lily Invasion
Simon Weckert und Philipp Weiser – Eternal Dream
Max Hattler – X
Natalie Bookchin – The act of changing something's position
Wang Dongling – Work in Progress
… will follow more …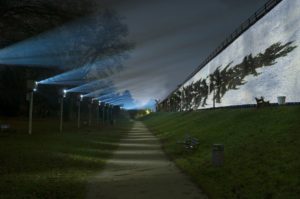 _____________________________________________________
captions :
in the slider:
| Lu Yang | Delusional Crime And Punishment / Wahnhafte Schuld und Sühne | https://vimeo.com/188248880 | Gemischt-Realität-Videomontage, 2015 |
im Text:
| Eija-Liisa Ahtila |

Termin: coming soon
Adresse: Bad Rothenfelde, Germany